The 2021 Subaru Love Promise Customer and Community Commitment Award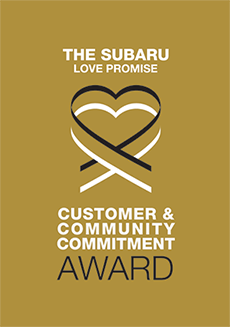 We've been nationally recognized for our dedication to our customers, our community, and the Subaru Love Promise.
We're honored to receive the 2021 Subaru Love Promise Customer and Community Commitment Award. This award nationally recognizes elite Subaru retailers who provide an exceptional customer experience at every interaction with Subaru. These retailers have also demonstrated an outstanding commitment to supporting passions and causes in their local communities in important areas such as the environment, community, health, education, and pets.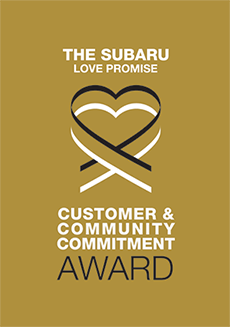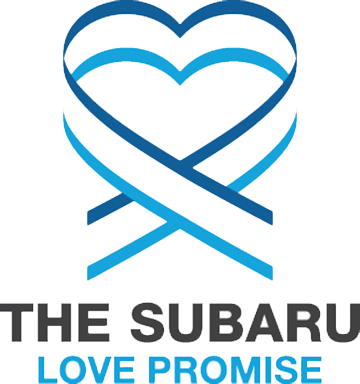 What is the Subaru Love Promise?
Subaru and our retailers believe in making the world a better place and the Subaru Love Promise is our vision of respecting all people. This is our commitment to show love and respect to our customers and to work to make a positive impact in the world.
How is Steve Moyer Subaru dedicated locally to the Love Promise?
Our Love Promise can be seen in various partnerships with local charities and non-profits. We're grateful for the opportunity, not only to be a part of our community, but to serve it as well.
Animal Rescue League, Humane Society
Berks County Horticultural Society
Schuylkill Valley Area School District, Governor Mifflin Area School District, Exeter Area School District, Tamaqua Area School District, Hamburg Area School District
Schuylkill Valley Youth Baseball, Schuylkill Valley Library, Leesport Historical Society, Special Olympics, Rotary Club
Berks Encore, Miller Keystone Blood Bank, Adventist Health
Love Promise Stories from Steve Moyer Subaru
Subaru and Steve Moyer Subaru believe in making a positive impact on the communities in which we live and work. We uphold that belief through our Love Promise Community Commitment. Every month, we select inspiring stories from customers and partners from around our area who strive to support our collective commitment and feature them here
Miller-Keystone Blood Drive - Kenneth V
During July 2021 Steve Moyer Subaru hosted the Miller-Keystone Bloodmobile at our dealership for a blood drive. We try to do a yearly blood drive to help keep our local blood bank full. It is very important aspect of supporting the community, and we are always proud to make space for a blood drive.
---
Hope Mission Blanket Donation - Kenneth V
In October 2021, Steve Moyer Subaru was proud to donate heavy duty fleece blankets to our local Hope Mission homeless shelter and outreach center, as part of Subaru Loves to Help. We are sure these blankets will be put to good use immediately, as the weather in our community is starting to get colder.
---
Subaru Loves Learning - Thank You Notes - Kenneth V
In August 2021, Steve Moyer Subaru partnered with Adopt a Classroom as part of Subaru Loves Learning. We were able to provide TWO separate grants to TWO separate schools, Reading Middle School and Schuylkill Valley Elementary School. The Students sent us so many Thank You Notes, it warmed our hearts. We know that the resources are being put to good use, and we are proud to support local schools in our community.
---
Subaru Share the Love Donation 2021 Berks ARL - Kenneth V
2020 was a challenging year for everyone due to the Covid-19 pandemic. Through it all, Steve Moyer Subaru was able to provide ongoing support to our local Hometown Charities. We proudly donated $33,275 to the Animal Rescue League of Berks County, and are pleased to be able to offer our community the choice to select them again for the 2021 Subaru Share the Love Event.
---
Subaru Share the Love 2021 Berks Encore Donation - Kennet V
For over ten years, Subaru has been running the Subaru Share the Love promotion as a way to give back to the local communities that each Subaru dealership serves. Steve Moyer Subaru has partnered with Berks Encore yet again to raise money and awareness for the services they provide for local senior citizens living in Berks County. Steve Moyer Subaru is proud to donate $21,214 to Berks Encore and to lend our continuing support.
---
Steve Moyer Subaru's Customers Love Pets - Ken V
At the end of the Subaru Loves Pets program, which happened throughout the month October 2020, the customers and community of Steve Moyer Subaru was able to collect donated supplies and bring them directly to the Animal Rescue League of Berks County. These supplies will help the Animal Rescue League continue to provide the wonderful service of helping people in Berks County, PA adopt animals. Steve Moyer Subaru is proud to support our community.
---
Steve Moyer Subaru Donation to Hope Mission - Ken V
In November 2020, as part of the Subaru Loves program, Steve Moyer Subaru had the honor of donating 80 warm blankets to Hope Mission, a local shelter in Reading, PA. These blankets will be distributed immediately as to provide extra warmth to those who need it during the coldest months of the year. Steve Moyer Subaru is proud help our community.
---
Steve Moyer Subaru Steps Up Big for Pets in Berks - Ashley M
Steve Moyer Subaru and The Animal Rescue League of Berks County have had a long lasting and impactful relationship for several years. Their efforts each year through the Subaru Loves Pets and Share the Love initiative save thousands of animals each year by funding medical expenses and finding homes for hard to place animals. In 2020 specifically, their financial support and tireless promotion of our adoptable animals was critical during a year that brought so much uncertainty. Through a pet supply donation drive, abundant promotion of adoptable animals, and a new and far reaching live stream kickoff event, 2020 has been one of the best years yet. We are so grateful to be a beneficiary of the Share the Love, Subaru Loves Pets, and the Make a Dogs Day Campaign. This company, both local and national, are a profound leader in supporting animal welfare agencies, especially right here in Berks County.
---
Check Presentation Offers COVID Relief - Lori G
Steve Moyer Subaru, Leesport, PA presented a check for $21,390 to Berks Encore as part of the Share the Love program. Just a few days after the Governor of PA declared the state green and additional businesses could re-open, the Moyers arranged the check presentation for Berks Encore, a nonprofit that delivers Meals on Wheels, provides grocery shopping services, and other senior services. Everyone wore the Subaru Loves to Care masks as the check was presented to help feed seniors in Berks County, PA. In addition to meals on wheels, Berks Encore had assembled and delivered 2000 emergency food boxes to needy seniors, and had partnered with a local grocer to prepare 10 bonus meals for each of the 650 Meals on Wheels clients to make sure none went hungry. Berks Encore had experienced an increase in request for services of 30% and the cancellation of two fundraising events, so the timing of this donation will be put to good use to continue to make sure homebound seniors are safe and fed.
---
Lucky Dude Saved by Volunteering - Jim F
Jim Ferguson has been a volunteer with Meals on Wheels at the Berks Encore Mifflin Center in Berks County, PA for over 7 years. He tells me that he loves the center and the seniors that he meets there. In fact, they may have saved his life. He has been in recovery for 8 years and is on disability from emphysema and complications from the medications he was using to treat it. And yet he tells me that he is a "Lucky Dude". His wife has been by his side and encouraged him to get off the couch and do something. He came to the Berks Encore Mifflin Center where he found his purpose. Instead of focusing on himself, he had an opportunity to help others and make a difference in their lives. Kate Sweinhart is the center manager at the center and she shared with me that he is so giving and willing to help on any route whenever she needs someone. But that isn't all - he goes above and beyond the delivery of Meals on Wheels. Like the Saturday this summer when the temperatures were set to hit 100 and he and his wife loaded up cases of water in their car and visited with Meals on Wheels customers to make sure they were ok and had water. Or the time he went back to help a Meals on Wheels client who had just moved to unpack several boxes to help him feel more at home. Jim is a full time caretaker for his mother-in-law who has been diagnosed with dementia. At the time his father-in-law passed away, Jim promised him that he would take care of his wife and his daughter. He's not about to let him down. He and his wife have 2 rescue cats and 2 rescue dogs. It's something they do - rescue those who need help! Jim told me that helping others and volunteering is a trick that makes you think you are helping someone else. But really, you're helping yourself! It has helped him. While you are helping someone else, you aren't thinking about your own problems. For Jim, life is full - of kindness giving and love! We love that he found his purpose at Berks Encore helping us with Meals on Wheels.
---