The 2021 Subaru Love Promise Customer and Community Commitment Award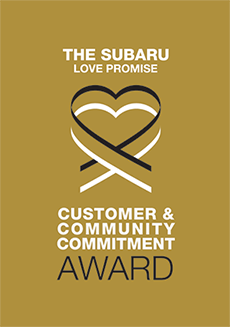 We've been nationally recognized for our dedication to our customers, our community, and the Subaru Love Promise.
We're honored to receive the 2021 Subaru Love Promise Customer and Community Commitment Award. This award nationally recognizes elite Subaru retailers who provide an exceptional customer experience at every interaction with Subaru. These retailers have also demonstrated an outstanding commitment to supporting passions and causes in their local communities in important areas such as the environment, community, health, education, and pets.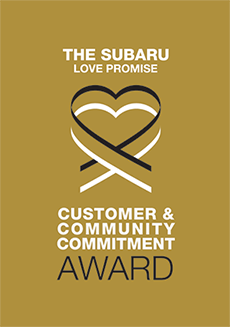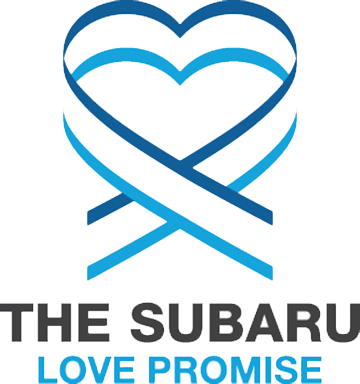 What is the Subaru Love Promise?
Subaru and our retailers believe in making the world a better place and the Subaru Love Promise is our vision of respecting all people. This is our commitment to show love and respect to our customers and to work to make a positive impact in the world.
How is Steve Moyer Subaru dedicated locally to the Love Promise?
Our Love Promise can be seen in various partnerships with local charities and non-profits. We're grateful for the opportunity, not only to be a part of our community, but to serve it as well.
Animal Rescue League, Humane Society
Berks County Horticultural Society
Schuylkill Valley Area School District, Governor Mifflin Area School District, Exeter Area School District, Tamaqua Area School District, Hamburg Area School District
Schuylkill Valley Youth Baseball, Schuylkill Valley Library, Leesport Historical Society, Special Olympics, Rotary Club
Berks Encore, Miller Keystone Blood Bank, Adventist Health
Love Promise Stories from Steve Moyer Subaru
Subaru and Steve Moyer Subaru believe in making a positive impact on the communities in which we live and work. We uphold that belief through our Love Promise Community Commitment. Every month, we select inspiring stories from customers and partners from around our area who strive to support our collective commitment and feature them here
Steve Moyer Subaru's Customers Love Pets - Ken V
At the end of the Subaru Loves Pets program, which happened throughout the month October 2020, the customers and community of Steve Moyer Subaru was able to collect donated supplies and bring them directly to the Animal Rescue League of Berks County. These supplies will help the Animal Rescue League continue to provide the wonderful service of helping people in Berks County, PA adopt animals. Steve Moyer Subaru is proud to support our community.
---
Steve Moyer Subaru Donation to Hope Mission - Ken V
In November 2020, as part of the Subaru Loves program, Steve Moyer Subaru had the honor of donating 80 warm blankets to Hope Mission, a local shelter in Reading, PA. These blankets will be distributed immediately as to provide extra warmth to those who need it during the coldest months of the year. Steve Moyer Subaru is proud help our community.
---
Steve Moyer Subaru Steps Up Big for Pets in Berks - Ashley M
Steve Moyer Subaru and The Animal Rescue League of Berks County have had a long lasting and impactful relationship for several years. Their efforts each year through the Subaru Loves Pets and Share the Love initiative save thousands of animals each year by funding medical expenses and finding homes for hard to place animals. In 2020 specifically, their financial support and tireless promotion of our adoptable animals was critical during a year that brought so much uncertainty. Through a pet supply donation drive, abundant promotion of adoptable animals, and a new and far reaching live stream kickoff event, 2020 has been one of the best years yet. We are so grateful to be a beneficiary of the Share the Love, Subaru Loves Pets, and the Make a Dogs Day Campaign. This company, both local and national, are a profound leader in supporting animal welfare agencies, especially right here in Berks County.
---
Check Presentation Offers COVID Relief - Lori G
Steve Moyer Subaru, Leesport, PA presented a check for $21,390 to Berks Encore as part of the Share the Love program. Just a few days after the Governor of PA declared the state green and additional businesses could re-open, the Moyers arranged the check presentation for Berks Encore, a nonprofit that delivers Meals on Wheels, provides grocery shopping services, and other senior services. Everyone wore the Subaru Loves to Care masks as the check was presented to help feed seniors in Berks County, PA. In addition to meals on wheels, Berks Encore had assembled and delivered 2000 emergency food boxes to needy seniors, and had partnered with a local grocer to prepare 10 bonus meals for each of the 650 Meals on Wheels clients to make sure none went hungry. Berks Encore had experienced an increase in request for services of 30% and the cancellation of two fundraising events, so the timing of this donation will be put to good use to continue to make sure homebound seniors are safe and fed.
---
Lucky Dude Saved by Volunteering - Jim F
Jim Ferguson has been a volunteer with Meals on Wheels at the Berks Encore Mifflin Center in Berks County, PA for over 7 years. He tells me that he loves the center and the seniors that he meets there. In fact, they may have saved his life. He has been in recovery for 8 years and is on disability from emphysema and complications from the medications he was using to treat it. And yet he tells me that he is a "Lucky Dude". His wife has been by his side and encouraged him to get off the couch and do something. He came to the Berks Encore Mifflin Center where he found his purpose. Instead of focusing on himself, he had an opportunity to help others and make a difference in their lives. Kate Sweinhart is the center manager at the center and she shared with me that he is so giving and willing to help on any route whenever she needs someone. But that isn't all - he goes above and beyond the delivery of Meals on Wheels. Like the Saturday this summer when the temperatures were set to hit 100 and he and his wife loaded up cases of water in their car and visited with Meals on Wheels customers to make sure they were ok and had water. Or the time he went back to help a Meals on Wheels client who had just moved to unpack several boxes to help him feel more at home. Jim is a full time caretaker for his mother-in-law who has been diagnosed with dementia. At the time his father-in-law passed away, Jim promised him that he would take care of his wife and his daughter. He's not about to let him down. He and his wife have 2 rescue cats and 2 rescue dogs. It's something they do - rescue those who need help! Jim told me that helping others and volunteering is a trick that makes you think you are helping someone else. But really, you're helping yourself! It has helped him. While you are helping someone else, you aren't thinking about your own problems. For Jim, life is full - of kindness giving and love! We love that he found his purpose at Berks Encore helping us with Meals on Wheels.
---
Berks Teen in Spotlight - Austin M
Andrea Gebely is the center manager at the Berks Encore Strausstown Center. She posted on Facebook about a young volunteer who was coming to the center 4 days a week and helping to pack, prepare and clean up with Meals on Wheels. The only thing he didn't do was deliver because he can't drive yet. He also hangs out some days and helps with bingo and other activities at the center. Since summer was winding down, I wanted to see what Austin thought about his experience volunteering with Meals on Wheels. I found out he's been coming to the center in the summer since 8th grade. He will be going to 10th when school opens this fall. Since he doesn't drive yet, he comes to the center with his grandmother, Norma Stauffer. Austin began volunteering because he needed community service hours for Scouts, and he is tallying hours for his grad project for Hamburg High School. His service at MOW started when a friend's father who delivers Meals on Wheels, told him that he could get service hours at Berks Encore. Austin is a regular teenager. He wants to play baseball and he pitched with the Junior legion team this summer. His favorite team is the Washington Nationals and it's a highlight when he goes to a game every year at Nationals Park. His grandma tells me he was shy and she has seen how this has helped him be more outgoing. He has met many different volunteers at the center. One of them, Elizabeth, came over while I was talking with Austin and told me how much of a privilege it was to work with him. She explained that they rarely had to tell him what to do – he would just do it. She described him as polite and a pleasure to be around. Does that sound like most 10th grade teenagers you know? In fact, Austin told me that he is happy for the community service hours, but he also likes the people he works with at the center. He tells me its nice to know that he is helping someone who needs that meal. He thinks it is a great way for young people to get involved and help in their community. Everyone told me Austin was a great kid before I met him. They weren't wrong. Good luck to you Austin, I know you have a bright future ahead of you! We do have opportunities for high school teenagers who are interested in helping in our community. Contact our director of volunteers, Rita Phillips, 610-374-3195 ext. 225.
---
Steve Moyer Subaru & LLS share love! - gracie g
On Monday, June 24 The Leukemia & Lymphoma Society Eastern PA Chapter and Steve Moyer Subaru had the pleasure of delivering 80 blankets and several arts & craft kits to the McGlinn Cancer Institute as part of the Subaru Loves To Care program. These comforting gifts were accompanied by personalized messages of hope written by the customers and staff of Steve Moyer Subaru. This incredible act of generosity was warmly received by the McGlinn Cancer Institute staff who were thrilled to distribute these comforting gifts to their patients. LLS is proud to partner with Subaru to spread hope, love and warmth to those fighting cancer, across the country and right here in the Reading community. Many thanks to everyone at Steve Moyer Subaru and the McGlinn Cancer Institute for supporting LLS's mission to cure blood cancers and improve the quality of life of patients and their families.
---
Steve Moyer Subaru Shows Love For Berks Encore - Lori G
When Steve Moyer Subaru, Leesport, PA selected Berks Encore as its hometown charity for the Subaru Share the Love Event, they were showing some record love for the organization that administers the Meals on Wheels program in Berks County, PA. Along with Subaru of America and their customers, Steve Moyer Subaru was able to raise $31,921 for programs at Berks Encore that serve seniors in Berks County. The family dealership presented a check to Berks Encore President LuAnn Oatman and Director of Development JoAnn Gruber at a special ceremony. On display in the showroom for the ceremony was the 2018 Subaru Outback that was awarded to Berks Encore during the "50 cars for 50 years" program. That Subaru is driven by a part-time driver who assists in making meal deliveries but also plays a key role in a Produce Program, which serves fresh produce donated by the DoubleTree by Hilton hotel, 701 Penn St., Reading to at-risk older adults. The program provides bonus nutritional servings of fruit and vegetables to some of the most vulnerable seniors in the community. Each weekday, about 650 meals are delivered to Berks County residents, about half of whom live within the city. "We are immensely proud of our community and their efforts to make improvements in Berks County," a Steve Moyer Subaru spokesman said.. "Organizations such as Berks Encore are a credit to our community. Through the efforts of local volunteers, they provide resources to senior citizens right here in Berks County." In addition to the Share the Love program, Steve Moyer Subaru has supported Meals on Wheels with employee volunteers making meal deliveries in the community. A program that will benefit the most from this year's record donation is the new Change of Condition Program, which introduces an efficiency improvement in terms of tracking the condition of individuals who receive meal deliveries. The volunteer who delivers the meal will be able to use an app on a smartphone or tablet to document changes in conditions, such as a person's speech, home environment condition and his or her physical appearance. The information received during observations as a result of follow-up visits will be loaded into a database that a triage nurse will use to improve early interventions and to prevent emergency hospitalizations. This new technology will continue to help Berks Encore fulfill the mission of Meals on Wheels to be much more than a meal.
---
Local Community Media helps Spread the Love - Lori G
During the 2018 Share the Love campaign, Berks Encore was recognized as the Hometown Charity by Steve Moyer Subaru of Leesport, PA.In the past, we have held live radio broadcasts and stuff the trunk events during Share the Love. This year we invited Ken Veit, marketing director for Steve Moyer Subaru to be our guest on our monthly Berks Community Television show during the Share the Love event. This is local community media at its best - providing information and opportunities to service organizations that are helping to make a difference in the local community. While Ken was there to promote Subaru of America and the philanthropic program they call Share the Love, it also informed shoppers about another way they could help Berks Encore & Meals on Wheels receive some extra love this holiday season. He put out a plea to those Subie owners who are so passionate about their cars. A plea for help to deliver Meals on Wheels - to get involved and to volunteer. I was invited to attend the Steve Moyer Subie Bash in the Fall, and was given time at the microphone to talk about the many programs that Berks Encore runs for the seniors in our community. Subaru owners were able to stop by and talk to me about volunteer opportunities - many of them having parents, grandparents or neighbors that have benefited from meals on wheels service. So during the BCTV program in December, not only did Ken promtoe the Share the Love event and how Subaru of America would help share money with Berks Encore and Meals on Wheesl, but he also helped to drive volunteers to help us serve our neighbors in need. We got phone calls almost right way after the program aired. December is usually a slower month for volunteers but also one in which we have a need. We were able to sign up 29 new volunteers during December and Ken's message on that TV program helped! Steve Moyer has been helping Berks Encore and supporting Meals on Wheels since the Share the Love event started. But it isn't just selling cars - Ken knew first hand about volunteering with meals on wheels delivery from the dealership, so he could speak first hand about the experience.
---
PA Secretary of Aging recognizes Berks Encore - Lori G
We were thrilled to have Pennsylvania Secretary of Aging, Teresa Osborne kick off Older Americans Month with Berks Encore. She visited the Berks Encore Reading Center on Thursday, May 3 to check in on how we are using the new Meals on Wheels Subaru Outback and visited with homebound clients receiving meals on wheels. Secretary Osborne is a Subaru enthusiast and she couldn't stop admiring the car! But even more, she had been thrilled that two communities in the state of Pennsylvania were recognized with a new Subaru during the 50th anniversary of Subaru of America – one in Northampton and one in Berks. As a result, she spent some time in Northampton delivering meals during March for Meals and kicked off Older Americans Month by delivering meals in Berks County. The Secretary was also impressed with the partnership Berks Encore has with the Doubletree Hotel that provides fresh fruits and other excess food delivered daily with the regular meals on wheel delivery . Providing these fresh fruits to our homebound seniors, also provides extra nutritional value to their daily meals, many seniors commenting that they like the fresh fruit that is a surprise addition to their meal. With LuAnn Oatman, president of Berks Encore behind the wheel of the Subaru Outback , I was charged with navigating the streets of a downtown Reading delivery route. Secretary Osborne was very gracious as we wound back & forth on city streets and had to maneuver around roads that were closed due to construction. As the meal runner, she was perfectly at ease making the deliveries to the homes of our Meals on Wheels recipients where she shared a friendly greeting. She was very engaging and it was like driving around the city with a good friend. After finishing the route delivery, we headed back to the Reading Center for a quick tour of the facility, highlighted by the renovated lobby area, with shiny new bathrooms. Then it was on to lunch and a chance for some board members and staff to sit down with the Secretary for a roundtable conversation. Berks Encore Board Chair Carl Staples, joined the Secretary and staff members for lunch in the conference room where we shared with each other, some challenges and opportunities. The secretary was so gracious to everyone that she came in contact with and wasn't the least bit flustered when being "shushed" for talking too loudly with some of the seniors in the center while a game of bingo was being played! The next day when she sent out her weekly bulletin to aging partners around the state, she included a recap of her visit to Reading. These are her words as she describes the Meals on Wheels delivery:"As a former Meals on Wheels Case Manager, my fondness for and appreciation of this program grows each time I am fortunate enough to deliver a nutritious meal to the home of a senior, who looks forward to not just receiving their meal, but also exchanging hellos and shaking hands with the volunteer who comes to their door. I enjoyed every delivery stop and was greeted at each door by a senior who expressed gratitude for the meal delivered and who assured me that they were keeping cool and hydrated on a rather hot spring day. My visit was a great way to celebrate Older Americans Month and also served as a gentle reminder of lessonslearned…commit yourself to serving and strengthening your community." Thank you, Secretary Osborne, for your dedication to aging Pennsylvanians!
---
Steve Moyer Loves to Care Reading Hospital! - Jenn P
On Tuesday, June 25th, 2018 representatives from Steve Moyer Subaru in Leesport and the local chapter of The Leukemia & Lymphoma Society (LLS) of Eastern PA presented 80 Subaru Loves to Care Blankets to Reading Health System's McGlinn Cancer Institute. The donation was received by staff in the lobby of the McGlinn Cancer Institute, located on the ground level of the N-Building at Reading Hospital. To help with the delivery was our 2018 Chester County Light The Night Honored Hero – Elayne Baker. Ken Veit, Marketing Director, Keith Weiser Retired Sales Manager and Connie Anderson, Controller at Steve Moyer Subaru were on hand from Steve Moyer. Keith and Connie both have a personal connection to blood cancer. Keith's wife Sylvia was a recipient in 2016 of one of the Subaru Loves to Care Blankets and was in the 2016 photo of the Subaru Loves to Care blanket delivery. Unfortunately Keith's wife lost her battle to cancer in the fall of 2016. He wanted to help with the delivery to help make someone's day a little brighter and warmer who is battling cancer. As he said someone who is battling cancer is always cold. The blankets will help bring some warmth in their lives. Connie is a Hodgkin's survivor from when she was a teen. Both Connie and Keith were able to deliver the blankets to patients in the hospital in the infusion center and on the floor. They did this last year when delivering the blankets in 2017. In addition Keith was on the local news talking about the delivery.Thank you to all for helping to bring light, hope and warmth into a cancer patient's day!
---
Ambassador Day of Caring - Lake Ontelaunee Cleanup - Berks County S
On Saturday, June 16th 2018 a group of Subaru Ambassadors from the Berks County PA area got together to clean up trash from Lake Ontelaunee and the surrounding area. Lake Ontelaunee is very important to the greater Reading, PA area as it supplies much of the water for the local community. The Subaru Ambassadors organized with the support of Steve Moyer Subaru and the Water Authority to pick up as much trash as possible, thereby preventing it from entering the filtration system for our local drinking water supply. All of our Ambassadors are passionate about their Subaru cars, but they are equally passionate about their environment. Thank you to all of the Subaru Ambassadors in our area and beyond. Keep up the great work!
---
Driver Takes Produce Program on the Road in Subaru - Lori G
Lewis (who's full name is Ronald Lewis) meets me at 7:45 a.m. to head out in the Meals on Wheels Subaru awarded to Berks Encore, Reading, PA. We are heading to the Doubletree Hotel by Hilton in downtown Reading. In a special arrangement with the hotel, we are picking up containers of fresh fruit to be included in that day's meals on wheels delivery. At the hotel, we head to the kitchen where Lewis looks for Sous Chef Israel. Chef Israel tells me that the program has been working well, keeping excess food out of landfills, by reusing and repurposing food purchased for banquets and buffets. By using it the next day it is still fresh and has full nutritional value. In the past couple of months since the program started, the hotel staff has packaged fruit, cubed cheese and pasta salad. Extra pasta from a banquet lunch or dinner, can be turned into a cold pasta salad by adding some veggies, oils and seasoning. Vanessa, Sage & Emerson quickly work together to fill more than 100 containers with the fruit, seal the containers and pack them into the cooler that Lewis uses to transport them back to Berks Encore. By 8:45, a team of packers at the Reading Center is adding the fruit to the brown paper bag with milk, bread and pudding to be delivered along with the hot portion of ham, mashed potatoes and corn. Today they will pack 225 meals to be delivered to seniors in the city of Reading and 80 meals to be served at the center that day. Those 100 containers means that almost half of the home delivered meals will include fresh fruit today. The other half will receive fruit tomorrow. Staff juggle the routes to make sure everyone receives the extra package several days a week. Donna DeBiec, Care Coordinator for Berks Encore shared, "Clients love it! They are touched that the big hotel in town would think about them. They also appreciate the ready to eat bite size pieces. " Lewis will deliver 2 routes today in the Subaru. A volunteer called in sick, so Lewis will pick up that route to get it delivered. In the past, when volunteers didn't show, other volunteers would have to be called until they found someone that was available. With the new Subaru, and Lewis as the driver, meals are getting out to more people, more quickly. Berks Encore hired Lewis as the driver for the Subaru at the start of the year. He was a regular volunteer for 6 years, coming in every day to help in whatever way he could. He had retired from managing his barber shop in Allentown and found himself in Reading where he felt a need to give back. He grew up in Philly and still has family there. He was happy the Eagles got their Super Bowl Championship. Lewis has a Bachelor of Arts degree from Villanova (a fan of that basketball program)and enjoys reading in his spare time. He'll turn 70 this year and it concerns him that lawmakers plan cuts to programs like Meals on Wheels and health care. He wants to remind them that the seniors today raised their children, put them through school, supported them on their path in life – now some of those grown children are the lawmakers who are cutting funds for seniors –don't they realize how this will impact the parents who cared for them? While Lewis drives for the produce program, he's also driven by a love for his fellow senior. He tells me that when he delivers he will always take extra time for those that want to chat, as he may be the only person they see that day. He's doing a lot more than just driving a car.
---
48 hrs of TriState Charity Drive 2018 Make a Wish - Kenneth V
2018 marks the 17th year in a row for The 48hrs of Tristate Annual Charity Drive. The drive covers over 1000 miles, spread over three days. It all started in 2001 when five members of the NASIOC (North American Subaru Impreza Owner's Club) decided they wanted to take a tour of the Tristate region to meet other Subaru Enthusiasts and raise money for a charity at the same time. Some of the original attendees directly were effected by the 9/11 attacks, and the small group of drivers during the first 48hrs Tristate Charity Drive raised $1,500 for The New York State World Trade Center Relief Fund. Over the years, the 48hrs of Tristate group has donated to the American Cancer Society, Alex's Lemonade Stand and the Make-A-Wish Foundation. Since it's humble beginnings the 48hrs of Tristate has grown exponentially, with more than 60 cars and 100 drivers participating every year, raising over $50,000 for charity every year. This year's charity recipient is the Make-A-Wish Foundation, who helps children with life threatening medical conditions see their wishes come true. Make-A-Wish relies on the generosity of individual donors to create an unforgettable experience for every eligible child they serve. This year's group visited the Make-A-Wish location in New Jersey to be recognized for their efforts.Over the past 15 years, more and more Vendor Sponsors like Steve Moyer Subaru have chipped in to support the event. They donate supplies, resources, equipment, and money. Being a sponsor for the 48hrs of Tristate is a meaningful way to help make a difference.One of the sponsors this year was Kartboy, and they set up a 2 hour private indoor karting event, free to participants of this year's event. Not only is this drive a wonderful bonding experience, it is an amazing way to see the scenic winter landscapes of New Jersey, Pennsylvania and New York, all while making the most of an opportunity to help raise money for charity. This year's 48hrs of Tristate also featured a scenic trip to the William Penn Memorial Fire Tower, although freezing cold, the views were spectacular. By the end of the journey, everybody gets together for an Awards dinner, to share their experiences, laugh, and bask in the glory of what they have just accomplished. If you want to participate in the drive, or you want to sponsor them, please do not hesitate to contact any of the participants or the organizers. They love doing this amazing event, and they want you to come out and be part of the fun.
---
Subaru-A Game Changer for Berks County - Cameron M
December 6th was a very good day for Berks Encore and the Berks County Meals on Wheels program. That was the date of the live radio broadcast with WEEU 830 AM from Steve Moyer Subaru, Leesport, where the Subaru of America team would officially donate a 2018 Subaru Outback to the local Meals on Wheels program. As part of their 50 cars for 50 years celebration, Reading's Berks Encore would receive one of those cars - one of only 2 awarded in the state of Pennsylvania. But the good news didn't stop there. During the broadcast, the United Way of Berks County presented a check for $23,500 to Berks Encore as a recipient of a United Way Venture Grant - seed money to jumpstart a new program in Berks County for Meals on Wheels clients. This new program is an exciting partnership with the Doubletree Hotel by Hilton where fresh produce that was unused or leftover would be repurposed for use the next day and delivered to meals on wheels clients that have been identified as most at risk. Research has found that people recuperating from hospital stays or dealing with illness will have better outcomes and be more likely to remain at home and not return to the hospital if they can obtain a higher nutritional value in their food. Craig Poole, general manager for the Double Tree was instrumental in bringing the program to fruition. In a partnership with the hotel, it can reduce the waste going to landfills and provide valuable nutrients to meals on wheels clients. Mr. Poole said," We need to take care of our elders and homebound. This program can provide them with fresh fruits and vegetables keep our leftovers out of landfills." The pilot program hit the street the week after Thanksgiving with a 4 ounce container of fresh fruit (berries, melon & pineapple). The fruit was packaged each day and added to the regular Meals on Wheels delivery to the city clients. Poole insisted that the program start with some consistency. And so a serving of fresh fruit was included every day. The containers were delivered to the regular Meals on Wheels customers in the downtown area by volunteer drivers from the Reading Center. The venture grant from the United Way will help to outfit the Subaru Outback with new coolers to transport the fresh produce as a supplement to meals on wheels. It will also provide funding for a part time driver to assist the volunteers currently delivering meals or to deliver to additional routes so that more clients can be served. LuAnn Oatman, President of Berks Encore said, "The partnership of Subaru America and Meals on Wheels America has made a significant difference in the lives of so many. Additionally we thank the United Way, Craig Poole, and the Doubletree , and the entire community for their support in this new venture. This will be a game changer for senior hunger and isolation in our community."As part of the Subaru Share the Love promotion, Marc Goldstein and Blankets of Hope donated blankets to be delivered to the neediest of the Meals on Wheels customers during the winter months. Paramount Living Aids & Assured Assistance presented a donation of $2500 to purchase grocery gift cards that will be given to meals on wheels customers during the holiday season to help them add to their own food pantry. Tompkins VIST bank added their support with an additional $22,500 over the next 3 years to help Berks Encore expand the fresh produce program and a new program that you will be hearing more about in the next few months – BE2U. The Subaru of America representatives on hand that day were impressed with the scope of help Berks Encore is providing in the Berks County community to make a difference to those in need. Eric Moyer, general manager of Steve Moyer Subaru offered, " We are proud to support seniors in our local community. The meals they deliver have such a positive impact in our area." Everyone in attendance was feeling the love on December 6 at Steve Moyer Subaru.
---
Meals on Wheels Outback Donation - Day of Charity - Kenneth V
On Wednesday, December 6th 2017, Steve Moyer Subaru hosted a day of charity at their dealership on Rt. 61 in Leesport, Pennsylvania as part of Subaru's Share the Love event. The team at Steve Moyer Subaru had the privilege of helping donate a 2018 Subaru Outback to Berks Encore, our local Berks County chapter of Meals on Wheels. To celebrate their 50th anniversary, Subaru of America selected 50 Meals on Wheels chapters across the country. Each of the 50 chapters has been given a special, vinyl wrapped 2018 Subaru Outback to be used in their meal deliveries. Berks Encore is well deserving of this Subaru Outback, as they need to be out delivering meals to Seniors in Berks County, regardless of the weather. Steve Moyer Subaru opened their dealership up to many of the local organizations which provide financial support to Berks Encore for a day-long celebration of giving. The entire event was broadcast live on WEEU Radio with live music by local pianist Karl Hausman. Representatives Jason Russo and Adam Woodhull from Subaru of America presented the new 2018 Meals on Wheels Outback to LuAnn Oatman the President/CEO of Berks Encore. Many examples of local charitable giving were on display at Steve Moyer Subaru throughout the day, among them were the United Way, Blankets for Hope, Paramount Living Aids and Assured Assistance. This day of recognition for charitable giving coincides with Subaru's Share the Love event, which is celebrating its 10th anniversary. During Share the Love event, Subaru will donate $250 per new Subaru vehicle purchased or leased to the customers' choice from a selection of National and Local charities. Local dealerships, like Steve Moyer Subaru, are encouraged to select a Hometown Charity. The dealership will contribute an additional $50 every time a customer selects the Hometown Charity as their preferred organization to have the money donated to. This year, Steve Moyer Subaru has selected the Animal Rescue League of Berks County as their Hometown Charity and has already participated in two Sponsored Adoption Weekends, paying the adoption fees and taxes for 93 pets who were able to find Forever Homes, made possible by a grant from Subaru of America and the ASPCA. As the day of charity progressed, Sherry Kutz of Paramount Living Aids and Assured Assistance presented a check for $2,500 to Berks Encore to be used for purchasing Redner's Grocery Store gift cards as part of the volunteer grocery shopping program. This provides the volunteers with the funds necessary to buy fresh ingredients, and along with other programs, helps Berks Encore provide even more meals to Seniors in Berks County. The United Way of Berks County announced their support of the new Produce Program, where local businesses like the DoubleTree Hotel in downtown Reading, help provide Meals on Wheels with produce to be delivered to home-bound Seniors. Dr. Yamil Sanchez Rivera and Kristin Gehris of The United Way presented a check for $23,500 to Berks Encore. Having fresh produce helps provides a delicious source of nutrition, which they often have difficulty adding to their meals. Marc Goldstein of Blankets of Hope donated over 250 warm blankets to Berks Encore, to be distributed this winter, helping to keep people warm, and providing a example of how much it means to Share the Love. Subaru runs a similar program every year, where they donate blankets to people fighting cancer. Never underestimate the benefit a nice warm blanket can provide to someone in need. So much support was shown for Berks Encore, that they are planning to be able to help a record number of local Seniors in the coming years. Steve Moyer Subaru is proud to be able to join Berks Encore in delivering meals, and if you see the Meals on Wheels Outback delivering food in your area, please remember that Berks Encore can always use more donations. There are numerous drop-off locations for donations, one of the easiest is at Steve Moyer Subaru were you can help "Stuff the Trunk" with socks, blankets, toiletries and non-perishable food. In celebration and recognition of these donations, Senators Pat Toomey, David Argall and Judy Schwank each sent representatives from their offices to present written letters of thanks. There were so many supporters at the dealership to help Share the Love that Steve Moyer Subaru and Berks Encore would like to thank the following people and organizations for their attendance and their ongoing efforts within Berks County. Please visit their websites to learn more about all the wonderful work these organizations do every day, and how you can help. www.berksencore.org www.assuredassistance.org www.paramountlivingaids.org www.subaru.com www.firstgreys.org www.weeu.com www.balnketsofhopepa.org www.uwberks.org www.toomey.senate.gov www.senatorschwank.com www.senatorargall.com www.padanerescue.com www.doubletree.com www.berksarl.org www.subaruambassador.com
---
In Memory of Sylvia Weiser - Kenneth V
When Sylvia Weiser passed away due to cancer, she left a hole in the hearts of her family, friends and co-workers. She is survived by her husband of 41 years, Keith. They met 43 years ago, through a mutual friend named Bob who owned a dealership which eventually became Steve Moyer Subaru.Sylvia had a very positive impact on everyone she met. Towards the end of her life, she continued to come in to the dealership, as she cared deeply for her "work family". Being in a place she felt comfortable, surrounded by those who loved her, was very important to her.Throughout their life together, Keith and Sylvia enjoyed traveling.Disney World was a personal favorite, having visited more than 10 times.So when the cancer became too aggressive for her to travel, the people of Steve Moyer Subaru took it upon themselves to bring Disney World to her. The party was kept secret, so when Keith brought Sylvia to work, instead of out to dinner, she was rightfully confused. Her friends, family, nurses and members of her church all arrived ahead of time in order to create a surprise she would never forget. We had Disney decorations, costumes, dancers, food, music and so much love.Love is something Subaru strongly believes in, and Steve Moyer Subaru also holds love in high regard. Love is why we try to make our community a better place, it drives us to be better people every day. Sylvia was the embodiment of that love, and it is in the spirit of love that we memorialize her in our own unique way.
---
Reading Hospital & Subaru Loves to Care - Monique R
On Tuesday June 27th, 2017, representatives from Steve Moyer Subaru in Leesport, PA and The Leukemia & Lymphoma Society (LLS) of Eastern PA presented 80 Subaru Loves To Care Blankets and 12 arts & crafts kits to Reading Health System's McGlinn Cancer Institute. The donation was received by patients and staff in the lobby of the McGlinn Cancer Institute, located on the ground level of the N-Building at Reading Hospital. Kenneth Veit, Marketing Director, Keith Weiser Retired Sales Manager and Connie Anderson, Controller were on hand for the delivery from Steve Moyer. Keith and Connie both have a personal connection to blood cancer. Keith's shared that his wife Sylvia was a recipient of one of the Subaru Loves To Care Blankets last year and was in the 2016 photo of the Subaru Loves To Care blanket delivery. Unfortunately, Keith's wife lost her battle to cancer in the fall. He wanted to help with the delivery to give back and help make a patient's day a little brighter and warmer the same way Subaru did for his wife a year ago. "Someone who is battling cancer is always cold" Keith said. The blankets will help bring some warmth to their lives. Connie is a Hodgkin's survivor and was diagnosed as a teen. Both Connie and Keith were able to deliver blankets to patients in the hospital and let them know they are not alone in their fight.
---
LLS Donation - Nicole S
For the whole month of June, Steve Moyer Subaru collected blankets, art kits, and messages of hope to be donated to those suffering with Leukemia or Lymphoma. Keith, Connie and Ken from Steve Moyer Subaru along with Monique R. from Leukemia & Lymphoma Society (LLS), presented new blankets to over 100 patients as part of an effort called "Subaru Loves to Care." The donation was received by patients and staff in the lobby of the McGlinn Cancer Institute, located on the ground level of the N-Building at Reading Hospital. Steve Moyer Subaru is proud to partner with The LLS, the world's largest voluntary health agency dedicated to blood cancers such as leukemia and lymphoma. Nationally, Subaru of America and LLS are donating more than 30,000 blankets as a gesture that offers support and "warmth" to cancer patients and their families. The messages of hope from Subaru staff and visitors were collected in June at participating retail locations. The blankets will provide recipients at McGlinn Cancer Institute with both physical warmth and the comforting warmth of knowing that others care.
---
Donating Kickballs to Local Elementary Schools - Local Area School Districts S
In recent times, public schools all across the country have been making do with smaller budgets. They have to make decisions how to provide the best education possible, with limited resources. Steve Moyer Subaru was able to provide hundreds of kick balls to many of the local elementary schools in our area. We also donated coffee cups and water bottles to the faculty and staff. These donated resources are the beginning of a relationship with our local area school districts, where Steve Moyer Subaru can provide material supplies for the children to use and enjoy. We visited 18 elementary schools, and at each we were thrilled at the pride the students had in their schools, and the love the teachers and other staff have for the children. We take any opportunity we can to support our community, and by helping the elementary schools, we are doing our best to ensure that our support benefits future generations within our local area directly.
---
March of Dimes at Penn State Berks Campus - Kenneth V
On Sunday April 21st, Steve Moyer Subaru sponsored the March for Babies at Penn State Berks Campus. Along with other local and national sponsors, we will be supporting the teams of walkers as they raise money for improving the health of babies. For the fifth year in a row Steve Moyer Subaru has participated in the March of Dimes contributing $7,200.00 to the cause. Many people from the local community come out to show their support and for babies born too soon, or with life-threatening complications. We celebrate individuals, families and friends who work together to raise money for charity, helping the March of Dimes do more in its mission. We work with the March of Dimes to bring hope to every mother and baby through life-saving research and helping the participants experience some of what babies, parents, doctors and nurses experience on a daily basis. We remember to honor those we lost, and draw inspiration from their strength. Sponsoring the March of Dimes allows us to help give our time and resources in a way that creates positive outcomes for mothers, their babies and their families. We are proud to participate, and we thank the thousands of people who participated in the march. Keep up the good work.
---
Supporting Schuylkill Valley Youth Baseball - Kenneth V
The community of Leesport, Pennsylvania, with its bustling Farmer's Market and rolling hills, is where our Dealership calls home. The local baseball field is an historic keystone of the town, having been there since the 1970's, with the surrounding fields used for community nights, picnics and fireworks displays. Over time, the stands, where families sat together cheering on their kids while watching them compete, have been falling apart. Coordinating with Schuylkill Valley Youth Baseball, Steve Moyer Subaru was able to sponsor the refurbishing of the grandstands, which will provide a safe, comfortable place for future generations to enjoy watching their kids play local baseball. By helping to make improvements in our own back yard, we can take pride in knowing that we are doing our part to support the community.On April 21st 2017, we joined our community for the Season Opening Ceremony, where all the teams come together in solidarity, before the feelings of friendly competition take over. Steve Moyer Subaru received recognition for their contribution, and Eric Moyer was honored to throw out the first pitch. The newly restored grandstands were filled to capacity with families and friends, as we hope they will be for many years to come.
---
20 New Laptops Donated to Opportunity House - Paul D
The Steve Moyer Subaru team provided 20 new Dell laptops to Opportunity House as part of Subaru's Share the Love event. Opportunity House is a local non-profit delivering community services such as a daycare, food, and housing to local residents in need. The Children's Learning Center is an important part of Opportunity House which is dedicated to helping kids. The new laptops provided a key technology upgrade which has opened doors ands given the children access to a broader range of educational services. Tiayshia Powell, age 11, writes "The computers help us because it teaches us things that we might have never known" Leilani Robinson, age 11, tells us "The computers help with research projects, learning a lot, and educational things." The new equipment is part of an ongoing effort by Steve Moyer to help and empower people in the community who need it most.
---
Subaru Loves Learning Initiative - Danielle S
Join us in our Subaru Loves Learning initiative during the month of August! We are partnering with the American Association for the Advancement of Science (AAAS) in donating science books to Schuylkill Valley Elementary School in the Schuylkill Valley School District. All of the books that will be donated have been recognized by AAAS as some of the best science books in their field. Contact us to learn more information.
---
Subaru Loves the Earth - E-Waste Event - Danielle S
We would like to thank our customers for participating in our E Waste Recycling event during the month of April. With your help, we were able to prevent 19,059 lbs of carbon emissions from polluting the atmosphere. This is equivalent to saving 730 trees, 3,241 gallons of gasoline, 27,630 plastic bottles, and 127,091 aluminum cans. Thank you for helping strengthen the Subaru Love Promise!
---