The 2021 Subaru Love Promise Customer and Community Commitment Award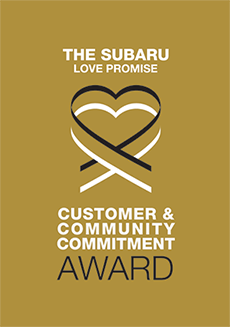 We've been nationally recognized for our dedication to our customers, our community, and the Subaru Love Promise.
We're honored to receive the 2021 Subaru Love Promise Customer and Community Commitment Award. This award nationally recognizes elite Subaru retailers who provide an exceptional customer experience at every interaction with Subaru. These retailers have also demonstrated an outstanding commitment to supporting passions and causes in their local communities in important areas such as the environment, community, health, education, and pets.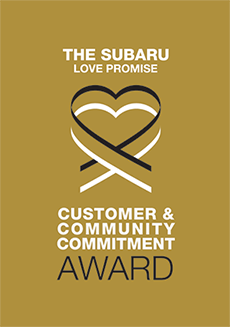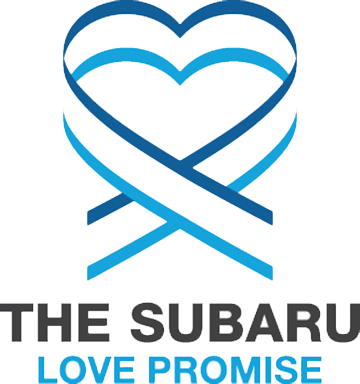 What is the Subaru Love Promise?
Subaru and our retailers believe in making the world a better place and the Subaru Love Promise is our vision of respecting all people. This is our commitment to show love and respect to our customers and to work to make a positive impact in the world.
How is Steve Moyer Subaru dedicated locally to the Love Promise?
Our Love Promise can be seen in various partnerships with local charities and non-profits. We're grateful for the opportunity, not only to be a part of our community, but to serve it as well.
Animal Rescue League, Humane Society
Berks County Horticultural Society
Schuylkill Valley Area School District, Governor Mifflin Area School District, Exeter Area School District, Tamaqua Area School District, Hamburg Area School District
Schuylkill Valley Youth Baseball, Schuylkill Valley Library, Leesport Historical Society, Special Olympics, Rotary Club
Berks Encore, Miller Keystone Blood Bank, Adventist Health
Love Promise Stories from Steve Moyer Subaru
Subaru and Steve Moyer Subaru believe in making a positive impact on the communities in which we live and work. We uphold that belief through our Love Promise Community Commitment. Every month, we select inspiring stories from customers and partners from around our area who strive to support our collective commitment and feature them here
Steve Moyer Subaru's Customers Love Pets - Ken V
At the end of the Subaru Loves Pets program, which happened throughout the month October 2020, the customers and community of Steve Moyer Subaru was able to collect donated supplies and bring them directly to the Animal Rescue League of Berks County. These supplies will help the Animal Rescue League continue to provide the wonderful service of helping people in Berks County, PA adopt animals. Steve Moyer Subaru is proud to support our community.
---
Steve Moyer Subaru Donation to Hope Mission - Ken V
In November 2020, as part of the Subaru Loves program, Steve Moyer Subaru had the honor of donating 80 warm blankets to Hope Mission, a local shelter in Reading, PA. These blankets will be distributed immediately as to provide extra warmth to those who need it during the coldest months of the year. Steve Moyer Subaru is proud help our community.
---
Steve Moyer Subaru Steps Up Big for Pets in Berks - Ashley M
Steve Moyer Subaru and The Animal Rescue League of Berks County have had a long lasting and impactful relationship for several years. Their efforts each year through the Subaru Loves Pets and Share the Love initiative save thousands of animals each year by funding medical expenses and finding homes for hard to place animals. In 2020 specifically, their financial support and tireless promotion of our adoptable animals was critical during a year that brought so much uncertainty. Through a pet supply donation drive, abundant promotion of adoptable animals, and a new and far reaching live stream kickoff event, 2020 has been one of the best years yet. We are so grateful to be a beneficiary of the Share the Love, Subaru Loves Pets, and the Make a Dogs Day Campaign. This company, both local and national, are a profound leader in supporting animal welfare agencies, especially right here in Berks County.
---
Check Presentation Offers COVID Relief - Lori G
Steve Moyer Subaru, Leesport, PA presented a check for $21,390 to Berks Encore as part of the Share the Love program. Just a few days after the Governor of PA declared the state green and additional businesses could re-open, the Moyers arranged the check presentation for Berks Encore, a nonprofit that delivers Meals on Wheels, provides grocery shopping services, and other senior services. Everyone wore the Subaru Loves to Care masks as the check was presented to help feed seniors in Berks County, PA. In addition to meals on wheels, Berks Encore had assembled and delivered 2000 emergency food boxes to needy seniors, and had partnered with a local grocer to prepare 10 bonus meals for each of the 650 Meals on Wheels clients to make sure none went hungry. Berks Encore had experienced an increase in request for services of 30% and the cancellation of two fundraising events, so the timing of this donation will be put to good use to continue to make sure homebound seniors are safe and fed.
---
Lucky Dude Saved by Volunteering - Jim F
Jim Ferguson has been a volunteer with Meals on Wheels at the Berks Encore Mifflin Center in Berks County, PA for over 7 years. He tells me that he loves the center and the seniors that he meets there. In fact, they may have saved his life. He has been in recovery for 8 years and is on disability from emphysema and complications from the medications he was using to treat it. And yet he tells me that he is a "Lucky Dude". His wife has been by his side and encouraged him to get off the couch and do something. He came to the Berks Encore Mifflin Center where he found his purpose. Instead of focusing on himself, he had an opportunity to help others and make a difference in their lives. Kate Sweinhart is the center manager at the center and she shared with me that he is so giving and willing to help on any route whenever she needs someone. But that isn't all - he goes above and beyond the delivery of Meals on Wheels. Like the Saturday this summer when the temperatures were set to hit 100 and he and his wife loaded up cases of water in their car and visited with Meals on Wheels customers to make sure they were ok and had water. Or the time he went back to help a Meals on Wheels client who had just moved to unpack several boxes to help him feel more at home. Jim is a full time caretaker for his mother-in-law who has been diagnosed with dementia. At the time his father-in-law passed away, Jim promised him that he would take care of his wife and his daughter. He's not about to let him down. He and his wife have 2 rescue cats and 2 rescue dogs. It's something they do - rescue those who need help! Jim told me that helping others and volunteering is a trick that makes you think you are helping someone else. But really, you're helping yourself! It has helped him. While you are helping someone else, you aren't thinking about your own problems. For Jim, life is full - of kindness giving and love! We love that he found his purpose at Berks Encore helping us with Meals on Wheels.
---
Berks Teen in Spotlight - Austin M
Andrea Gebely is the center manager at the Berks Encore Strausstown Center. She posted on Facebook about a young volunteer who was coming to the center 4 days a week and helping to pack, prepare and clean up with Meals on Wheels. The only thing he didn't do was deliver because he can't drive yet. He also hangs out some days and helps with bingo and other activities at the center. Since summer was winding down, I wanted to see what Austin thought about his experience volunteering with Meals on Wheels. I found out he's been coming to the center in the summer since 8th grade. He will be going to 10th when school opens this fall. Since he doesn't drive yet, he comes to the center with his grandmother, Norma Stauffer. Austin began volunteering because he needed community service hours for Scouts, and he is tallying hours for his grad project for Hamburg High School. His service at MOW started when a friend's father who delivers Meals on Wheels, told him that he could get service hours at Berks Encore. Austin is a regular teenager. He wants to play baseball and he pitched with the Junior legion team this summer. His favorite team is the Washington Nationals and it's a highlight when he goes to a game every year at Nationals Park. His grandma tells me he was shy and she has seen how this has helped him be more outgoing. He has met many different volunteers at the center. One of them, Elizabeth, came over while I was talking with Austin and told me how much of a privilege it was to work with him. She explained that they rarely had to tell him what to do – he would just do it. She described him as polite and a pleasure to be around. Does that sound like most 10th grade teenagers you know? In fact, Austin told me that he is happy for the community service hours, but he also likes the people he works with at the center. He tells me its nice to know that he is helping someone who needs that meal. He thinks it is a great way for young people to get involved and help in their community. Everyone told me Austin was a great kid before I met him. They weren't wrong. Good luck to you Austin, I know you have a bright future ahead of you! We do have opportunities for high school teenagers who are interested in helping in our community. Contact our director of volunteers, Rita Phillips, 610-374-3195 ext. 225.
---
Steve Moyer Subaru & LLS share love! - gracie g
On Monday, June 24 The Leukemia & Lymphoma Society Eastern PA Chapter and Steve Moyer Subaru had the pleasure of delivering 80 blankets and several arts & craft kits to the McGlinn Cancer Institute as part of the Subaru Loves To Care program. These comforting gifts were accompanied by personalized messages of hope written by the customers and staff of Steve Moyer Subaru. This incredible act of generosity was warmly received by the McGlinn Cancer Institute staff who were thrilled to distribute these comforting gifts to their patients. LLS is proud to partner with Subaru to spread hope, love and warmth to those fighting cancer, across the country and right here in the Reading community. Many thanks to everyone at Steve Moyer Subaru and the McGlinn Cancer Institute for supporting LLS's mission to cure blood cancers and improve the quality of life of patients and their families.
---
Steve Moyer Subaru Shows Love For Berks Encore - Lori G
When Steve Moyer Subaru, Leesport, PA selected Berks Encore as its hometown charity for the Subaru Share the Love Event, they were showing some record love for the organization that administers the Meals on Wheels program in Berks County, PA. Along with Subaru of America and their customers, Steve Moyer Subaru was able to raise $31,921 for programs at Berks Encore that serve seniors in Berks County. The family dealership presented a check to Berks Encore President LuAnn Oatman and Director of Development JoAnn Gruber at a special ceremony. On display in the showroom for the ceremony was the 2018 Subaru Outback that was awarded to Berks Encore during the "50 cars for 50 years" program. That Subaru is driven by a part-time driver who assists in making meal deliveries but also plays a key role in a Produce Program, which serves fresh produce donated by the DoubleTree by Hilton hotel, 701 Penn St., Reading to at-risk older adults. The program provides bonus nutritional servings of fruit and vegetables to some of the most vulnerable seniors in the community. Each weekday, about 650 meals are delivered to Berks County residents, about half of whom live within the city. "We are immensely proud of our community and their efforts to make improvements in Berks County," a Steve Moyer Subaru spokesman said.. "Organizations such as Berks Encore are a credit to our community. Through the efforts of local volunteers, they provide resources to senior citizens right here in Berks County." In addition to the Share the Love program, Steve Moyer Subaru has supported Meals on Wheels with employee volunteers making meal deliveries in the community. A program that will benefit the most from this year's record donation is the new Change of Condition Program, which introduces an efficiency improvement in terms of tracking the condition of individuals who receive meal deliveries. The volunteer who delivers the meal will be able to use an app on a smartphone or tablet to document changes in conditions, such as a person's speech, home environment condition and his or her physical appearance. The information received during observations as a result of follow-up visits will be loaded into a database that a triage nurse will use to improve early interventions and to prevent emergency hospitalizations. This new technology will continue to help Berks Encore fulfill the mission of Meals on Wheels to be much more than a meal.
---
Local Community Media helps Spread the Love - Lori G
During the 2018 Share the Love campaign, Berks Encore was recognized as the Hometown Charity by Steve Moyer Subaru of Leesport, PA.In the past, we have held live radio broadcasts and stuff the trunk events during Share the Love. This year we invited Ken Veit, marketing director for Steve Moyer Subaru to be our guest on our monthly Berks Community Television show during the Share the Love event. This is local community media at its best - providing information and opportunities to service organizations that are helping to make a difference in the local community. While Ken was there to promote Subaru of America and the philanthropic program they call Share the Love, it also informed shoppers about another way they could help Berks Encore & Meals on Wheels receive some extra love this holiday season. He put out a plea to those Subie owners who are so passionate about their cars. A plea for help to deliver Meals on Wheels - to get involved and to volunteer. I was invited to attend the Steve Moyer Subie Bash in the Fall, and was given time at the microphone to talk about the many programs that Berks Encore runs for the seniors in our community. Subaru owners were able to stop by and talk to me about volunteer opportunities - many of them having parents, grandparents or neighbors that have benefited from meals on wheels service. So during the BCTV program in December, not only did Ken promtoe the Share the Love event and how Subaru of America would help share money with Berks Encore and Meals on Wheesl, but he also helped to drive volunteers to help us serve our neighbors in need. We got phone calls almost right way after the program aired. December is usually a slower month for volunteers but also one in which we have a need. We were able to sign up 29 new volunteers during December and Ken's message on that TV program helped! Steve Moyer has been helping Berks Encore and supporting Meals on Wheels since the Share the Love event started. But it isn't just selling cars - Ken knew first hand about volunteering with meals on wheels delivery from the dealership, so he could speak first hand about the experience.
---
PA Secretary of Aging recognizes Berks Encore - Lori G
We were thrilled to have Pennsylvania Secretary of Aging, Teresa Osborne kick off Older Americans Month with Berks Encore. She visited the Berks Encore Reading Center on Thursday, May 3 to check in on how we are using the new Meals on Wheels Subaru Outback and visited with homebound clients receiving meals on wheels. Secretary Osborne is a Subaru enthusiast and she couldn't stop admiring the car! But even more, she had been thrilled that two communities in the state of Pennsylvania were recognized with a new Subaru during the 50th anniversary of Subaru of America – one in Northampton and one in Berks. As a result, she spent some time in Northampton delivering meals during March for Meals and kicked off Older Americans Month by delivering meals in Berks County. The Secretary was also impressed with the partnership Berks Encore has with the Doubletree Hotel that provides fresh fruits and other excess food delivered daily with the regular meals on wheel delivery . Providing these fresh fruits to our homebound seniors, also provides extra nutritional value to their daily meals, many seniors commenting that they like the fresh fruit that is a surprise addition to their meal. With LuAnn Oatman, president of Berks Encore behind the wheel of the Subaru Outback , I was charged with navigating the streets of a downtown Reading delivery route. Secretary Osborne was very gracious as we wound back & forth on city streets and had to maneuver around roads that were closed due to construction. As the meal runner, she was perfectly at ease making the deliveries to the homes of our Meals on Wheels recipients where she shared a friendly greeting. She was very engaging and it was like driving around the city with a good friend. After finishing the route delivery, we headed back to the Reading Center for a quick tour of the facility, highlighted by the renovated lobby area, with shiny new bathrooms. Then it was on to lunch and a chance for some board members and staff to sit down with the Secretary for a roundtable conversation. Berks Encore Board Chair Carl Staples, joined the Secretary and staff members for lunch in the conference room where we shared with each other, some challenges and opportunities. The secretary was so gracious to everyone that she came in contact with and wasn't the least bit flustered when being "shushed" for talking too loudly with some of the seniors in the center while a game of bingo was being played! The next day when she sent out her weekly bulletin to aging partners around the state, she included a recap of her visit to Reading. These are her words as she describes the Meals on Wheels delivery:"As a former Meals on Wheels Case Manager, my fondness for and appreciation of this program grows each time I am fortunate enough to deliver a nutritious meal to the home of a senior, who looks forward to not just receiving their meal, but also exchanging hellos and shaking hands with the volunteer who comes to their door. I enjoyed every delivery stop and was greeted at each door by a senior who expressed gratitude for the meal delivered and who assured me that they were keeping cool and hydrated on a rather hot spring day. My visit was a great way to celebrate Older Americans Month and also served as a gentle reminder of lessonslearned…commit yourself to serving and strengthening your community." Thank you, Secretary Osborne, for your dedication to aging Pennsylvanians!
---